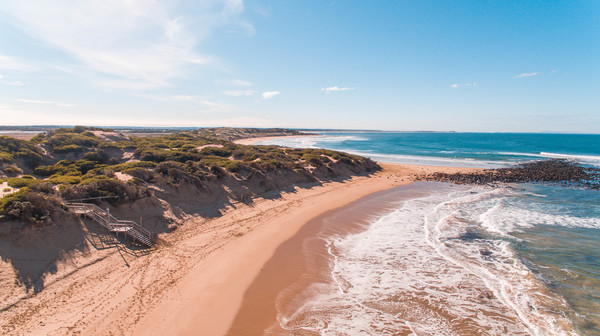 Geelong and the Bellarine Peninsula is a popular place all year round, but really thrives during summer.
Tourism Greater Geelong & The Bellarine has some tips on how and where to enjoy the summer fun.
Summer lovin' – here's five things to do when the heat is on.
Beach bliss
Make a splash! We've got saltwater therapy in almost every direction – Eastern Beach in Geelong is a timeless favourite on hot summer nights.
Head to the north side of the Bellarine for calm, clear waters for paddling, fishing or snorkelling. North side, we're thinking Portarlington, St Leonards and Indented Head.
To the south, head to Point Lonsdale, Ocean Grove and Barwon Heads – waves are perfect for boarding, be it surfing or paddle boarding or, when the tide is out, rock pool rambles and beach cricket.
Quench your thirst
Our vineyards and cellar doors are well known but we're also making great beer, cider and gin now too. We've got some classic five-star wineries such as Scotchmans Hill, Clyde Park, Oakdene, Lethbridge and Provenance Wines.
Beer, cider and gin anyone? We've got the east coast home of Little Creatures Brewery in Geelong and our very own naturally crafted cider (Flying Brick) and gin (Teddy and The Fox and Rosey and the Rabbits) from The Whiskery, to whet your whistle.
Balance your fluid intake with local food produce sourced via The Bellarine and Moorabool Valley Taste Trails and their farm gates and eateries.
The Main Event
Summer and events go together like jam and cream – they were made for each other.
The program this year in Geelong and the Bellarine will take you from international sport and magic in the water, such as the ISPA Handa Vic Open Golf Championships, Cadel Evans Great Ocean Road Race, Festival of Sails and world-class yachting championships.
There's music in every part of the region, some in a summer tent (Spiegeltent), others with 18,000 people at A Day on the Green (Cold Chisel) and then some in a beer garden at the Great Australian Beer Festival.
Back to Nature
Get your runners or hiking boots on and head to the You Yangs for an all-natural workout.
Hike to the top for 360 degree views, enjoy a picnic or barbecue in the park or check out the mountain-bike trails.
You can take your dog in too. Fresh fun for the whole family, even the furry ones.
Eat out
We mean literally.
Alfresco dining in Geelong is great for people watching and views on warm nights.
Think uber cool Little Malop Street in Geelong or dining on the waterfront with magnificent views of the bay.
On The Bellarine, water views and sea breezes are an even better entree than garlic bread.
For a view, you can't go past Terindah Estate, Jack Rabbit Vineyard, Basils Farm, 360Q or The Dunes or with a side of vintage cars or artwork at McGlashans and Oakdene respectively.
Need more summer activity inspiration? Head to visitgeelongbellarine.com.au.