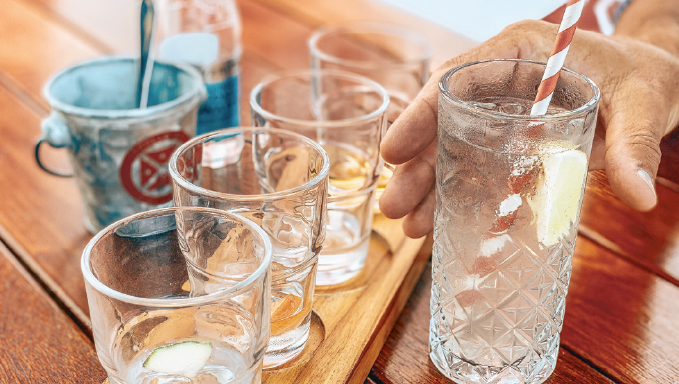 DISCOVER boutique distilleries, hidden cocktail bars and local gin joints.
There's a spot to sip your favourite botanical blend on every leg of the Great Ocean Road. Join us as we tour the gin trail, tasting our way down the coast.
Stop in for a quick gin flight or find a spot to spend an afternoon if you're staying nearby (or you have a designated driver on hand!)
Great Ocean Road Gin at Gin Kitchen – Aireys Inlet
Great Ocean Road Gin makes small batch craft gins that evoke the spirit of the coast. They're infused with locally sourced coastal botanicals including kelp, pigface and saltbush and their names are a nod to the local area. Don't miss the award-winning signature dry gin, Guvvos, named after the Anglesea surf beach. What exactly does a gin inspired by the Great Ocean Road taste like? The best place to find out is the restaurant and cocktail bar Gin Kitchen.
Find your favourite drop in the tasting room, or if you're after a feed, the restaurant's South East Asian menu pairs perfectly with bright gin cocktails.
Apollo Bay Distillery
This one's for the storytellers and history buffs. Apollo Bay Distillery's boutique gins are steeped in the local folklore surrounding the Shipwreck Coast. The distillery is housed in the old town post office and gins are made onsite using local botanicals. Meet the maker for a tasting paddle and see the beautiful copper column still. Be sure to try the SS Casino blend, named after the shipwreck in Apollo Bay. Then enjoy a G&T with a woodfired pizza on the deck overlooking the foreshore.
Casterton Distilling Co.
Head north from Portland and continue your gin journey. Inside Casterton's historical Albion Hotel lies a small batch craft gin distillery where everything is made onsite. Stop in for lunch and a tasting and see what other goodies they have in store. The warm and friendly staff make a visit to Casterton as educational as it is delicious. Watch the makers at work, or take a masterclass with the head distiller to create your own dream gin.