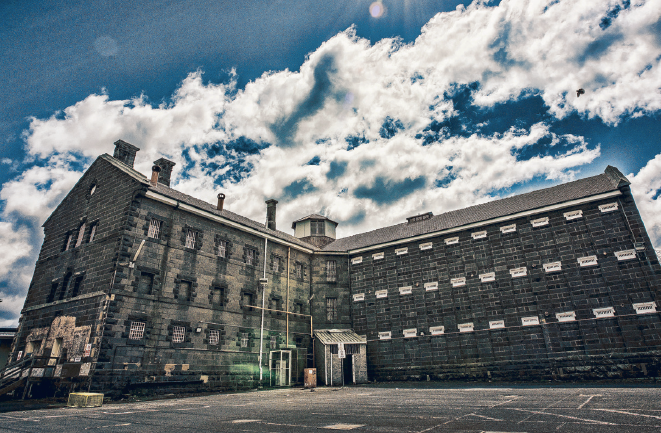 THE GEELONG Gaol Museum is proud to present its newest exhibition
'Stitched Up – Undressing our Convict Past,' bringing to life the story of Australian prisoner uniforms from the First Fleet to a Covid-safe uniform from 2020. Each uniform tells the story of an infamous Australian prisoner – you won't believe some of the stories behind the uniforms.
The Geelong Gaol has overlooked the town of Geelong for 170 years from behind a set of imposing gates. For 138 years it was a place of incarceration for men, women and children from all walks of life who were serving sentences imposed by the law and courts of Geelong. It has served roles as a maximum security prison for men and women; an industrial school for young girls; a hospital gaol; a military detention barracks and finally, a training prison.
Today, the Geelong Gaol Museum is open to the public, where visitors can walk in the footsteps of history and experience the brutal conditions that prisoners once endured, from tiny cells to solitary confinement and the gallows.
There are displays on the history of colonial Victorian gaols, prisoner stories memorabilia and artefacts of the prison system from days past. Exhibitions include Executions at Geelong Gaol: looking at the six executions associated with the gaol; Hoodwinkers and Hooligans: a display of death masks and phrenology; The Escape of Edwin Eastwood: the notorious Faraday kidnapper; Last Man Standing: displaying a series of paintings from one of the last six prisoners at Geelong; and Saga Behind The Armour: the story of Ned Kelly through the eyes of people with connections to Geelong and the events of 1880.
Once darkness falls, join Twisted History for nightly ghost tours, led by a character from the past who once lived or worked here, as you explore the haunted halls and cells by lantern light sharing the stories of those who once lived behind these walls, many of whom never left…
Or perhaps you are searching for the old age answer of whether ghosts really do exist? Join our investigators as we explore the hot spots using a range of paranormal equipment, trigger devices and experiments to see if you can find the evidence to prove that the paranormal truly does exist.
Geelong Gaol Museum is located at 202 Myers Street, Geelong. It is open from noon-5pm weekends, school and public holidays. The Geelong Gaol Museum will be open everyday from Boxing Day until the end of January. Geelong Gaol Ghost Tours are available seven nights a week, and investigations are available Friday and Saturday nights (other times by appointment).
For more information, phone 1300 865 800, or visit geelonggaol.com.au or twistedhistory.net.au